Installation of Index Testudo Spunbond waterproofing layer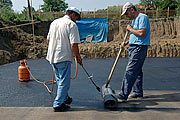 We installed the waterproofing layer on the right part of Amadeo. We chose to work with Index membranes, from Italy, distributed in Serbia by Kovex. The membrane we use is Testudo Spunbond Polyester Tipo 30. It is a specially reinforced membrane, 4mm thick, that is ideal for foundations.
Testudo Spunbond Polyester Tipo 30 is reinforced with high weight, isotropic, thermally fixed, rot-proof, "non-woven" single strand Spunbond polyester fabric. The reinforcement is very strong, has optimal elongation property and resistance to puncture and piercing. This Index membrane is recommended for earthquake-proof foundations, car parks, water works, bridges, viaducts and so on.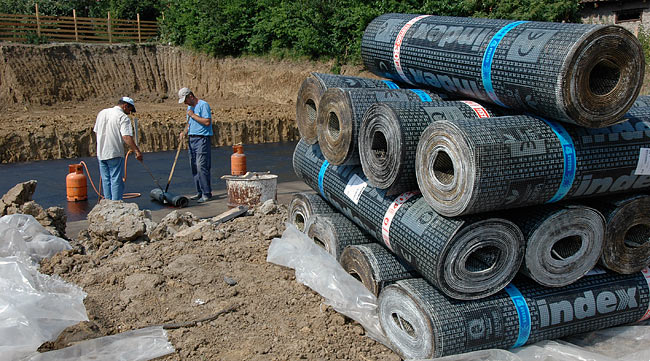 Working with Index Testudo Spunbond Polyester Tipo 30 4mm.
We were actually planning to use another Index membrane, a bit less reinforced, but sufficient for small buildings. Because this stronger one was immediately available we took it. The difference in price is very small anyway. One single layer of this membrane is incomparably stronger than two layers of Kondor which is the standard bitumen membrane used in Serbia. You can learn more about SBS membranes in the third part of our report on the Belgrade International Building Trade Fair.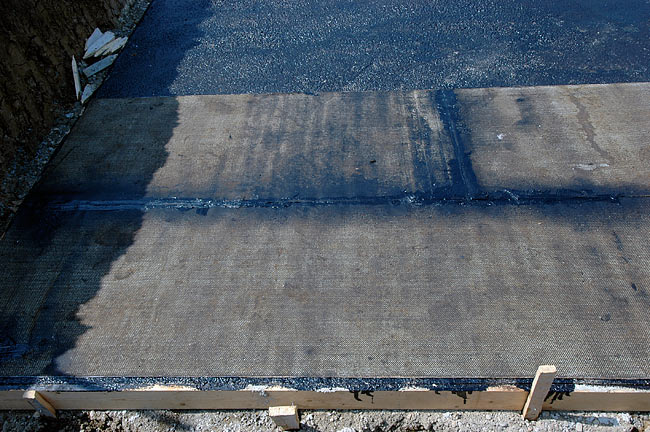 A long day of work
Our construction engineer personally performed the installation of the membrane to gain experience on this new material. It was a long day from early morning to late afternoon.