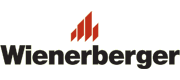 Beodom builds with Wienerberger POROTHERM. POROTHERM provides excellent natural thermal insulation together with high thermal inertia. Comfort is optimal in winter as well as in summer with less energy spent. Constructions made of POROTHERM are stronger, healthier, last longer and will have much better value for resale.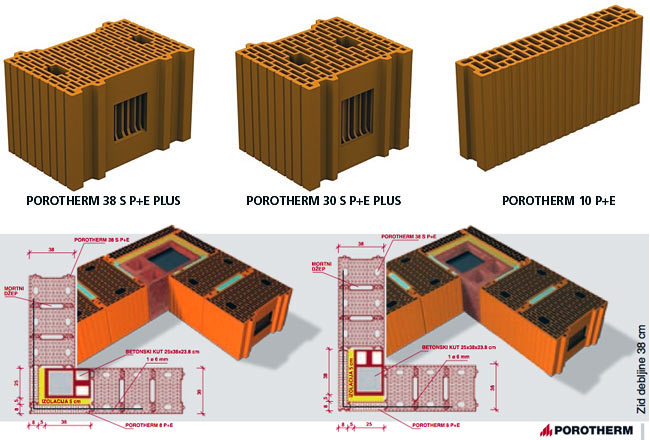 Wienerberger offers a large range of products such as the ones above that Kuće Beodom uses. POROTHERM 38 S P+E PLUS for external loadbearing walls, POROTHERM 30 S P+E PLUS for external/internal loadbearing walls and POROTHERM 10 P+E internal partition walls. POROTHERM system includes special corners element for vertical reinforcement that are combined with thermal insulation to prevent thermal bridges.
What is POROTHERM ?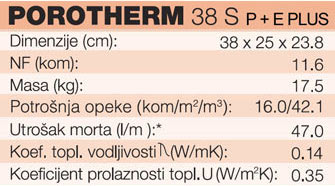 POROTHERM is a modern large-sized clay block that allows building walls without the need of an additional layer of thermal insulation. Performance of a wall made of POROTHERM 38 S P+E PLUS with insulating masonry mortar is excellent (U=0.35 W/m²K). The monolithic external wall consists of just one wall construction material. Masonry mortar is applied exclusively to the horizontal bed joint.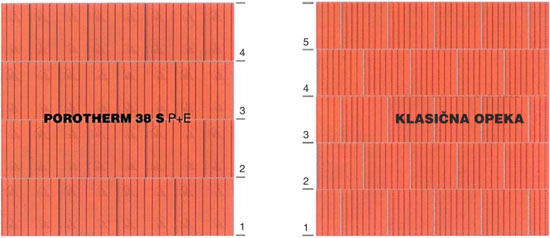 Comparison of walls built with POROTHERM 38 clay blocks and built with classic clay block (source Wienerberger).
Healthy construction
Constructions, made of POROTHERM clay blocks, are very healthy. The countless pores in the block favor the exchange of humidity between the indoor and outdoor environments guaranteeing the diffusion of vapors. There is no mould inside or on the walls. POROTHERM total lack of harmful substances guarantee a healthy indoor climate and sense of wellbeing.
Comfort
POROTHERM absorbs natural energy from the sun outside as well as heat originating from inside the building. It releases the absorbed heat back into the room air only at a later point when temperature inside drops. This saves heating energy as temperature fluctuations are balanced out by the absorption and release of heat. In winter, your home remains comfortably warm and in summer, pleasantly cool. The very good inertia of that brick provide far better comfort in summer than what you can get from lightweight insulating material such as glasswool or expanded polystyrene.
One essential factor for thermal comfort is actually the room-side surface temperatures of the building elements. Surface temperatures significantly lower than the room air temperature result in an uncomfortable feeling. The excellent thermal insulation properties of POROTHERM result in higher room-side surface temperatures and therefore superior thermal comfort.
Last, the fact that POROTHERM absorb interior moisture and release it quickly means that the wall surfaces remain dry in every season and ensures a comfortable room climate.
Earthquake safety
Serbia is a seismically threatened zone and masonry has to be properly done to ensure safety. Ceramic clay blocks alone have high mechanical strengths and a very good bond with the masonry mortar, which improves its usefulness for earthquake-safe buildings.
Moreover, POROTHERM 38 S P+E PLUS has been specially developed by Wienerberger for earthquake safety. It has an innovative grid, covering a hollow part, in which the mortar is poured to reinforce the connection between two blocks (see figure below). This system provides an extremely good cohesion of the complete building.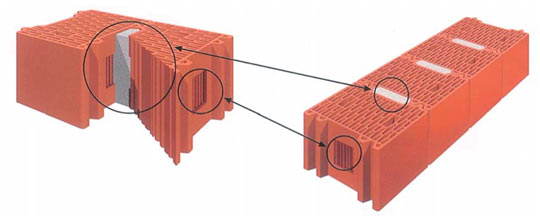 Details of POROTHERM 38 S P+E PLUS system for earthquake safety (source Wienerberger).
Representative office in Serbia
Wienerberger Bačka d.o.o.
Kulski put 15, Mali Iđioš 24321, Serbia
+381 (24) 730-100
www.wienerberger.rs