Henkel is an international company headquartered in Düsseldorf, Germany. It owns a wide range of internationally famous brands in 3 business areas: Home Care, Personal Care and Adhesives, Sealants & Surface Treatment.

For the construction industry, Henkel provides numerous products under brands such as Ceresit, Locite or Thomsit. Beodom chose a number of Henkel Ceresit products for its constructions.
In particular, and without being exhaustive, Beodom chose:
Ceresit silicone-silicate facade system CT 16 and CT 174 with the beautiful Colors of Nature tones.
Flexible, 2-component, waterproofing cement based slurry CR 166 for the hydro-insulation of balconies and terraces.
FT 101 flexible adhesive sealant
Flexible glue CM 16 and aquastatic flexible grout CE 40 for interior and exterior tiles.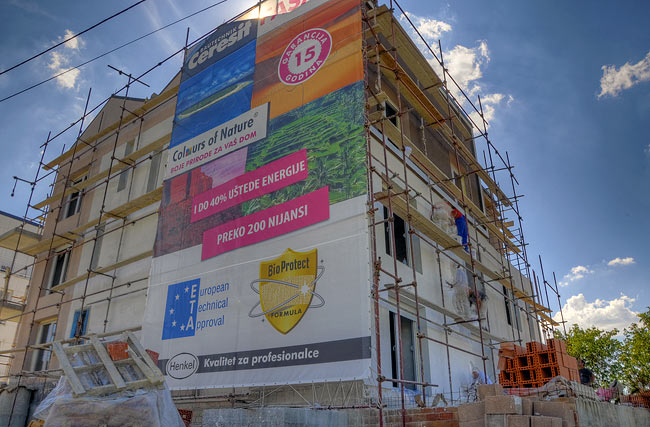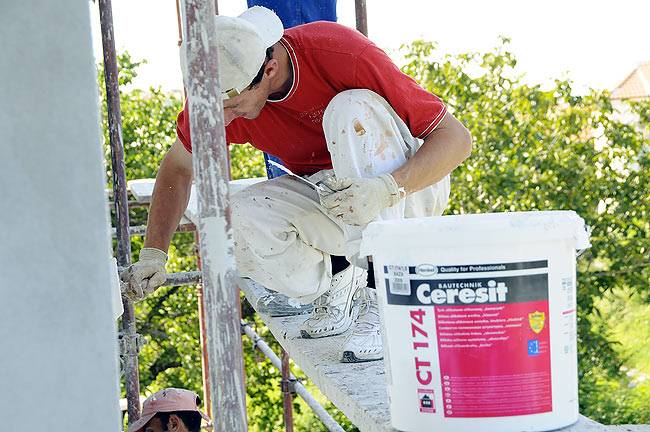 Work on Amadeo II facade with Ceresit CT 174, silicone/silicate color (Photo Beodom)
Of course, Henkel has numerous other excellent products and solutions on their catalog under the Ceresit brand or one of their other brands.
Headquarter in Serbia
Henkel Srbija d.o.o.
Bulevar oslobođenja 383, 11000 Beograd, Serbia
+381 11 207 22 00
www.henkel.rs
www.henkel.rs/zanatstvo-gradevinarstvo