SEEBBE 2008/3: waterproofing, pipes insulation and cork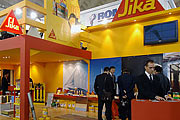 We made some interesting new contacts during the 34th Belgrade International Building Trade Fair last month. In this part, we talk about different waterproofing solutions for all parts of a building (Index, Vandex, Sika). We also look at solutions for thermal and sound insulation of pipes (Armacell, Izoterm, Rehau). Last, we visit Infomarket for their cork flooring and industrial cork boards.
Index, waterproofing and sound insulation

Index is an Italian based international company producing complete solutions for waterproofing and sound proofing. Index is distributed in Belgrade by Kovex whom we met at the fair. Index has an incredibly large catalog of solutions for all types of waterproofing from foundations to roofs. In fact, Index was the company that developed the first thick SBS-bitumen membrane in 1970.
Waterproofing solutions
Bitumen membranes can be divided into three broad groups. Oxidized bitumen (the traditional one) is the cheapest to produce. It lacks flexibility particularly at lower temperatures, has little capacity to cope with any movement and can become brittle and crack after exposure to sunlight.

The making of APP or SBS bitumen illustrated (source Index).
The other two groups are achieved by mixing bitumen with a modifier. It makes them easier to apply, harder to wear, and gives them longer life and improved performance. One group is bitumen mixed with atactic polypropylene (APP) and the other is the rubber-like styrene-butadiene-styrene (SBS). APP has better behavior in hot condition while SBS is more flexible in low temperatures and can also better accomodate movement.

APP and SBS temperature range (source Index).
APP and SBS membranes have improved a lot over time. Index now proposes new membranes that combine advantages of both types in one product such as their Flexter Flex membrane (reinforced elastoplastomeric ECMB Polymer-bitumen).
For Amadeo, we decided to work with Kovex for the waterproofing of the foundations and underground parking. We will use the Flexter Flex membrane. It is more expensive than standard Kondor but provides a much better and more durable solution.
Sound insulation
Index has also a complete range of solutions for sound insulation of dwellings. Regardless of the type of wall, floor and roof, Index has products to insure an adequate level of sound proofing. We will certainly use some of their solutions for Amadeo and we will come back to this topic in another article.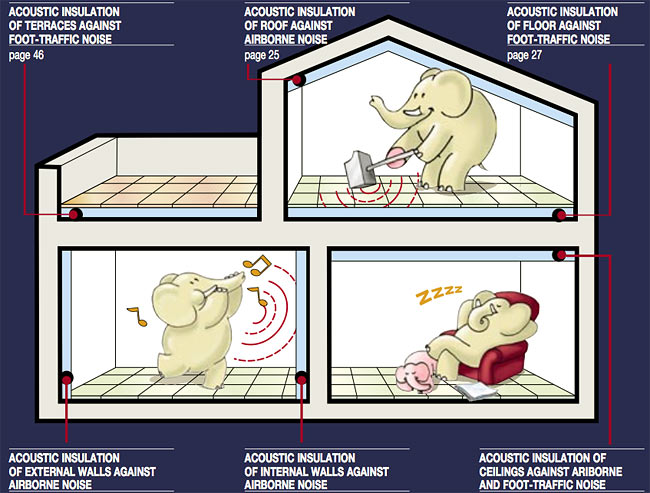 Index sound insulation solutions (source Index).
Besides, Index offers on their website a fantastic serie of technical guides in English and Italian. It covers, from theory to pratice, all aspects of construction related to Index's products, from flat roofs, sound insulation to waterproofing of bridges and tunnels.
Sika, waterproofing solution and concrete finition
Sika is a well known company in Serbia. It offers many different products for sealing, repairing or waterproofing. They had a large open stand at the fair to present their solutions. We noticed several products we may use in Amadeo.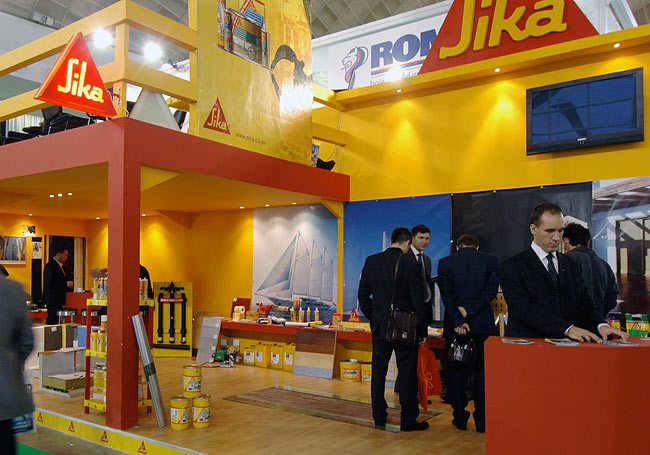 Sika stand.
Since it bought Trocal, Sika has become a specialist for flat roof waterproofing membranes. Sika-Trocal is an alternative to bitumen membrane for flat roof. It is based on a single ply plasticised PVC membrane that is very resistant and durable. We will definitely evaluate this solution for Amadeo.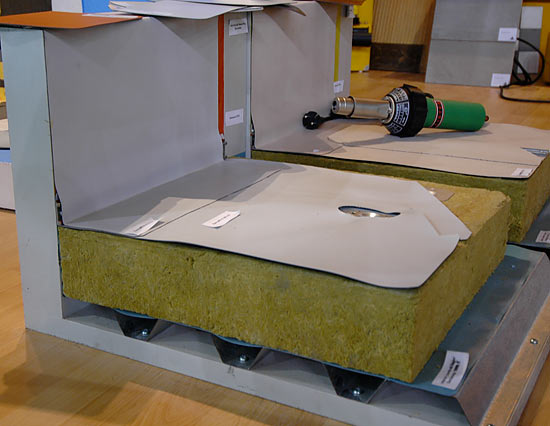 Sika-Trocal Single Ply plasticised PVC membrane for flat roof.
For tiles, Sika proposes SikaBond-T8, an elastic adhesive providing waterproofing and bonding. Sika SealTape-S can be used to insure sealing of corners.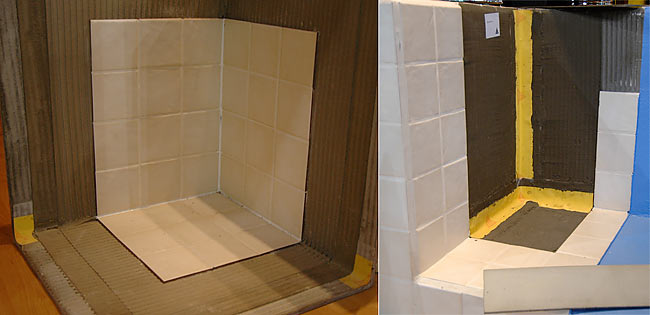 SikaBond-T8 and Sika SealTape-S for tile waterproofing and bonding.
Last we found a very good solution for the floor of the underground parking. SikaFloor is an additive for the surface finish of concrete floors that makes a perfect surface for parking.

SikaFloor: additive for surface concrete finition.
Vandex, capillary active concrete waterproofing
Another interesting approach to waterproofing that is not based on membranes is proposed by Vandex.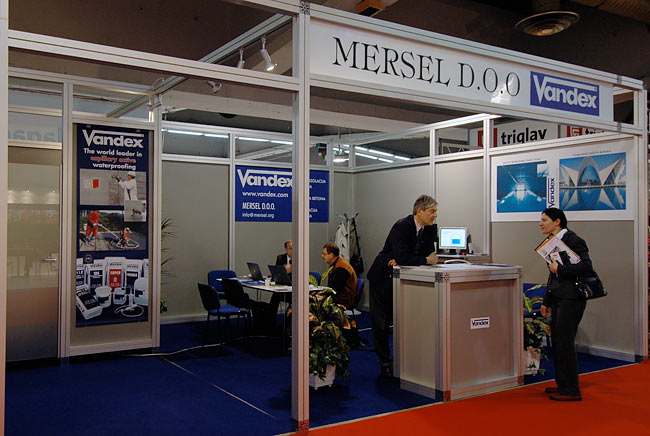 Vandex - Mersel doo stand
Vandex proposes 2 types of products. One type provides in-depth capillary active waterproofing. The product penetrate into the concrete and constrict the capillaries. The other type goes on the concrete to form a waterproof protective layer.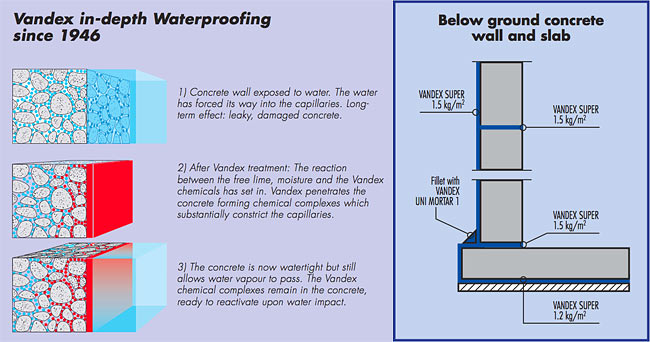 Vandex in-depth waterproofing system (source Vandex)
Those products can be used for concrete protection and are particularly interesting for repair where no other solution is possible. Note that Sika offers alternative products.
Thermal and sound insulation of pipes
Thermal and sound insulation of fresh-water, waste-water and sewage pipes is an essential aspect of quality and energy efficiency. For instance, pipes that transport hot water, from the electric water heater to the tap must be insulated to avoid energy deperdition. Other pipes, especially those for the waste-water and sewage must be noise insulated to prevent transmission of noise to the wall or floor and the resonance in other apartements.
There are 2 approaches to solve the problem. One is to wrap pipes with some insulating flexible material. This is the solution offered by Izoterm-Plama and Armacell. The other is to integrate the insulating material directly into the pipe. This is the solution offered by Rehau. This last solution might be more performant, easier to use but is also a more expensive one.
Izoterm-Plama
Izoterm-Plama is a Slovenian company with a branch and production facility in Serbia. Izoterm-Plama produces PLAMAFLEX and GUMAFLEX for the insulation of domestic pipes.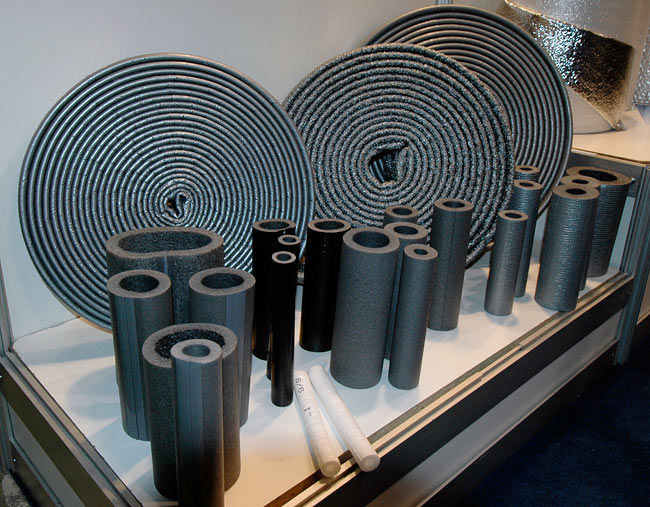 Izoterm-Plama solutions for protection and for sound and thermal insulation of pipes
Armacell
Armacell is a german company with a branch in serbia. Products sold in Serbia are directly imported from Germany. It is a direct competitor of Izoterm-Plama. Armacell also provides a wide range of solutions for the industry.
For domestic use, Armacell proposes Tubolit line of products.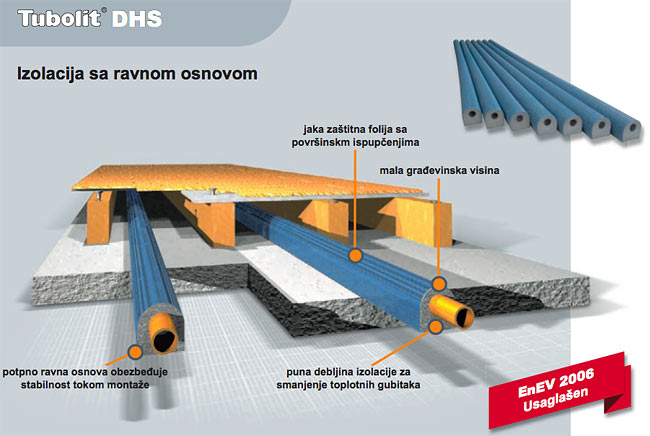 Tubolit DHS for the thermal insulation of hot water pipes (source Armacell)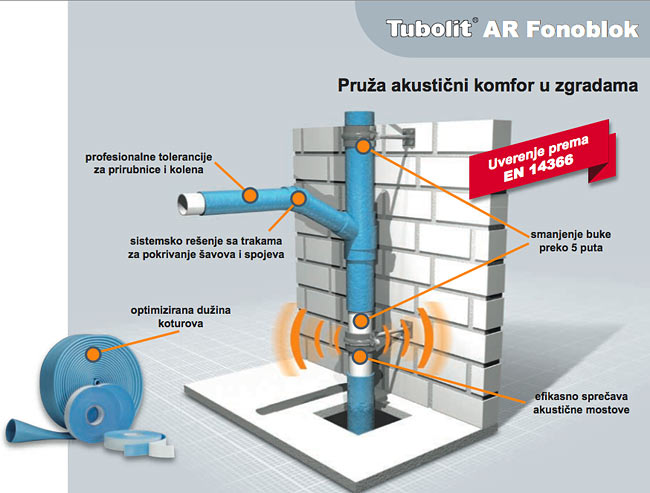 Tubolit AR Fonoblok for the noise insulation of canalization pipes (source Armacell)
Rehau
Rehau is a very large company presents in many sectors. It proposes pre-insulated pipes for domestic use. It is a very convenient and efficient solution. The main drawback is certainly the cost, apparently 2-3 times the cost of regular pipes.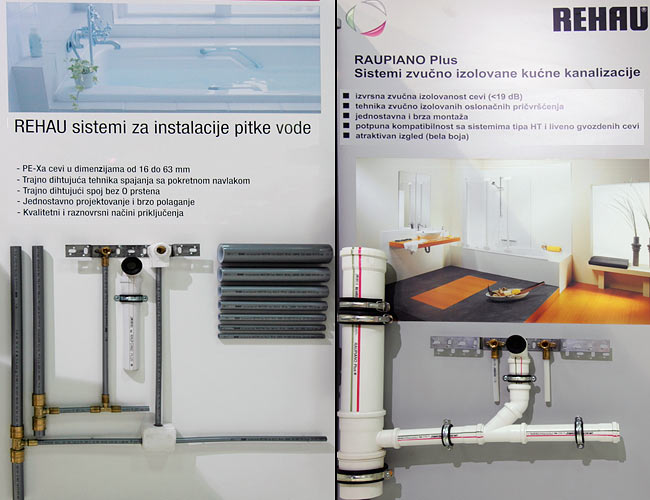 Rehau pre-insulated pipes for noise and thermal insulation.
Infomarket, cork flooring and industrial cork board
To close this third part of the report of the fair, we present products offered by Infomarket based on cork, imported from Portugal. Cork is a fantastic material. It is natural, durable, nice looking and provide excellent thermal and acoustic insulation.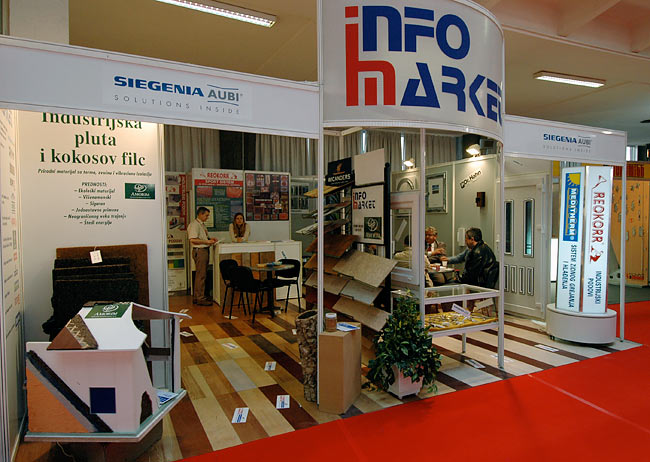 Infomarket stand
Industrial cork is the least expensive product from cork. It can be used for thermal and sound insulation of all parts of the house. It is to be covered with a finition layer. It can avantageously replace polystyrene or mineral wool, but it remains much more expensive than those products it can replace.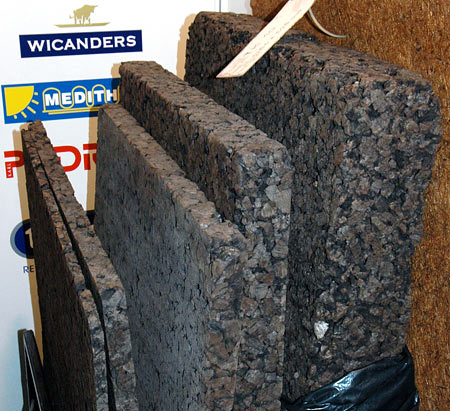 Infomarket industrial cork for thermal and noise insulation of walls and floors
Another application of cork is flooring. Cork provides nice look, warm touch and reduces naturally impact noise. Cork flooring starts at around 20€/m² which makes it competitive with other types of wood floor.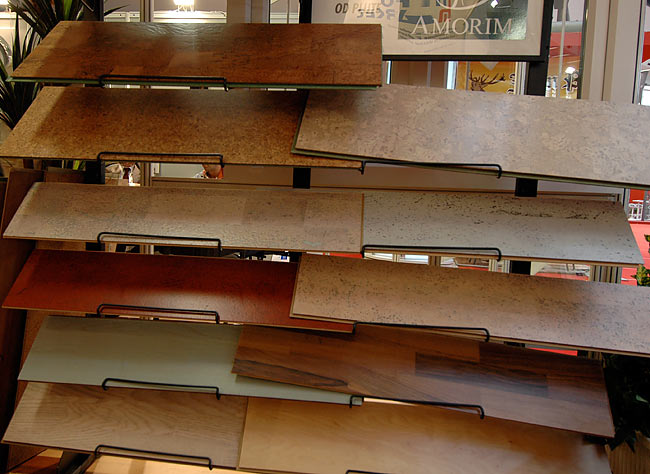 Infomarket Amorim cork flooring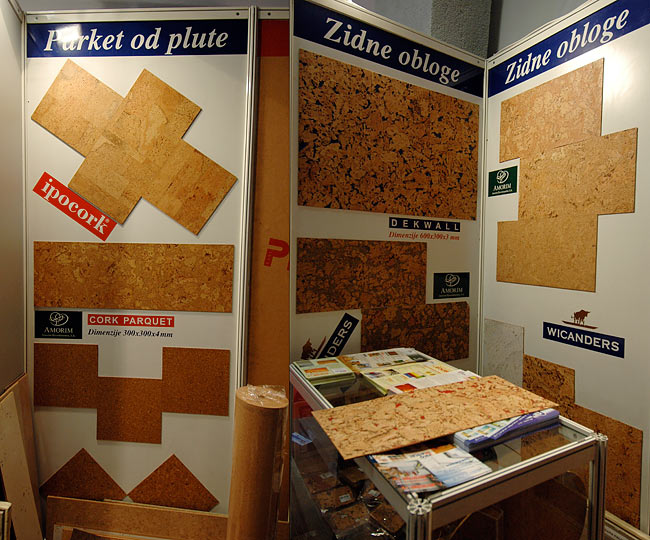 Infomarket cork parquet