What's wrong with residential buildings in Belgrade: wall thermal insulation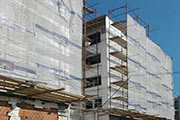 It is by looking at the actual quality of the building stock in Belgrade that you come to appreciate what means genuine construction quality. In this article, we look at what investors are doing when it comes to walls thermal insulation of new buildings in attractive locations. The examples we are showing here are randomly taken. They represent what you are most likely to find by looking around in Belgrade.
Insufficient thermal insulation
The most common solution for the thermal insulation of external walls in new constructions in Belgrade is the use of 5cm of expanded polystyrene (EPS). It is used either in a cavity wall, with facing bricks or with a layer of fiberglass net and mortar applied directly on the EPS (demit fasade).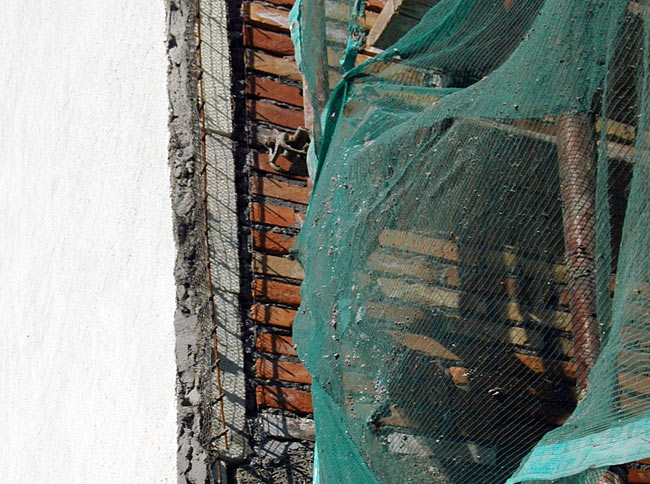 External thermal insulation of a building with 5cm of expanded polystyrene with the covering mortar applied directly (demit fasade) (Photo Lionel Mestre).
We could argue on the pluses and minuses of using EPS as thermal insulation on the wall in the first place but that is not our purpose here. If done properly, with sufficient thickness, EPS can provide excellent thermal characteristic as a layer of thermal insulation.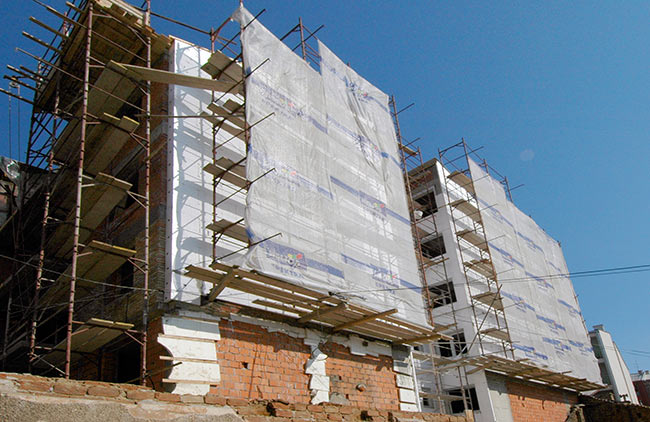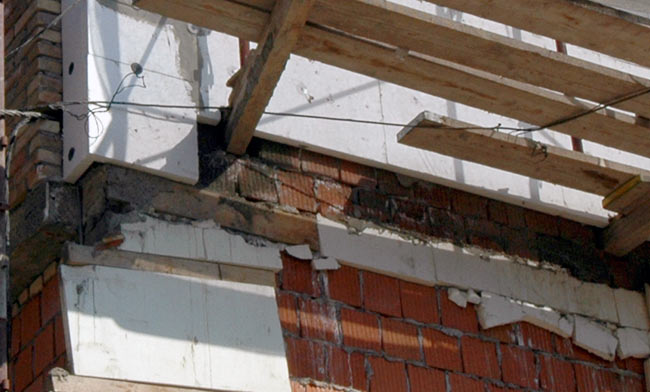 External thermal insulation of a building with 5cm of expanded polystyrene (Photos Lionel Mestre).
A wall made with classic clay blocks (25x19x19) and 5cm of EPS covered with mortar and plaster for the finition on both sides has a U-value between 0,5 and 0,6 W/m²K (assuming a proper realization and without counting thermal bridges on the balconies). Regarding the Serbian norms, which have not been updated since 1989, it is more than enough. But how relevant are norms established 20 years ago? Any country with similar climate as Serbia that has more advanced energy regulations has stronger requirements (see below). Their norms have been updated several times to reflect the real cost of energy today and the impact on the environment.
| | Wall | Roof | Floor |
| --- | --- | --- | --- |
| Serbia | 0,90 | 0,65 | 0,75 |
| Romania | 0,70 | 0,33 | 0,60 |
| Bulgaria | 0,50 | 0,30 | 0,50 |
| Hungary | 0,45 | 0,25 | 0,50 |
| France | 0,40 | 0,25 | 0,36 |
| Slovenia | 0,15 to 0,60 | 0,15 to 0,25 | 0,25 to 0,45 |
| Switzerland | 0,2 to 0,3 | 0,2 to 0,3 | 0,2 to 0,3 |
Existing requirements of thermal performance (U-value in W/m²K) of different building sections in different countries with similar climate as Serbia (source Source Eurima).
To compare, a wall made of Wienerberger POROTHERM 38 S P+E PLUS with mortar and plaster for finition on both sides has a U-value of 0,35 W/m²K. The classic wall as described above with 10cm of EPS instead of 5 would have a similar U-value.
So the standard application of 5cm of external thermal insulation on the wall fulfills the outdated Serbian norms while being insufficient for a comfortable interior with low-energy requirements. Sadly, there is no incentive for investors to do any better.
Problems in the realization
What we said above assumes an excellent realization. Not surprisingly, realizations vary greatly in quality. It is not so easy to see because, most of the time, the messy details are hidden once the building is finished.
Yet, sometimes they are still visible. We have an example below coming from a very exclusive location where price per square meter was most certainly above or close to 2000€. You can see that the investor spent money to please the eye, although the ugly air conditioning systems are a wake-up call that not everything is perfect in the building.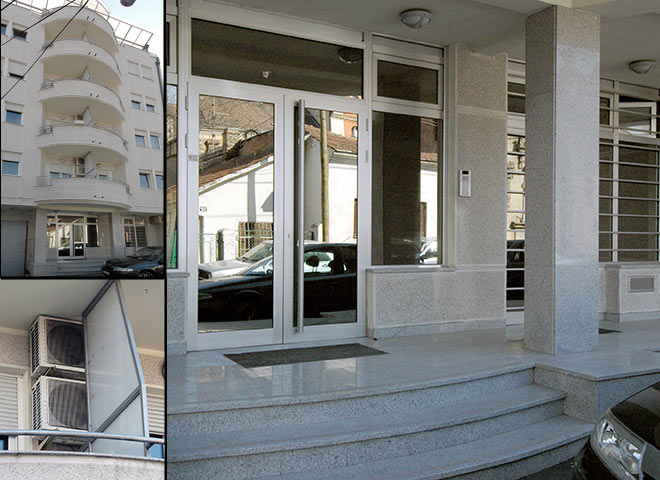 Expensive luxury location near Kalenić market. Top-left: view of the building, bottom-left: detail of the unavoidable air cooling systems, right: very good looking entrance (Photos Lionel Mestre).
Regarding wall thermal insulation, we can see, on the picture below, it is the standard 5cm of EPS. As we explained before, this is ok to pass Serbian norms but it is rather the cheapest solution than the best. At that price per square meter, there is room to do much better. But this is not the most striking detail anyway. The building was made with 2 existing older constructions on each side. So the problem was how to make a nice external thermal insulation with those 2 existing buildings almost touching.
Details of the external thermal insulation of the location above. Left: detail of the gap on the left, right: detail of the messy polystyrene on the right side (Photos Lionel Mestre).
As an ersatz of solution, the builder stuffed some polystyrene into the space between the 2 buildings on each side as the construction progressed. Then, they had to join that messy polystyrene with the proper facade. And they came up with this "wonderful" idea illustrated on the picture above.
One can imagine the consequences of this nonsense. Beautiful and big ventilated thermal bridge, water going down the facade and probably accumulating between the polystyrene and the clay blocks, structural damage when freezing or with mould... How long before those consequences cause a real issue. Sadly, there is no possibility of improvement until the old buildings on each side are put down. And even then, who will be responsible to fix the mess?
The challenge of connecting buildings
As we looked around more carefully, we realized that the connection between new and existing buildings touching each other always come as a challenge that is very poorly addressed. It seems that the same solution of stuffing some polystyrene is used with more or less success. Below are some examples of the practice.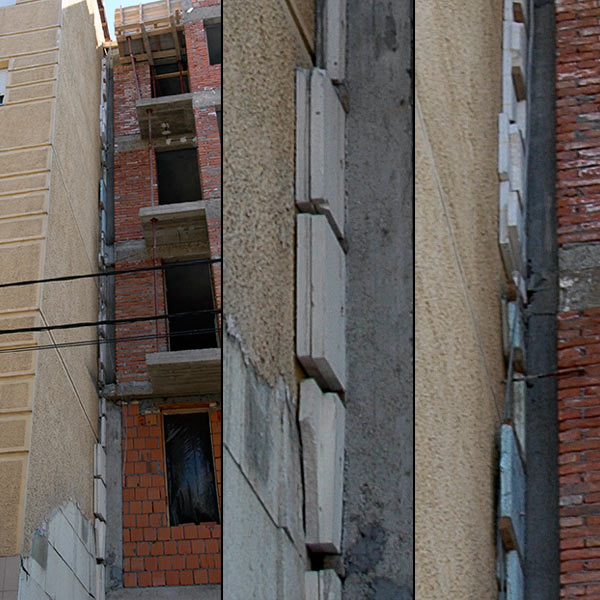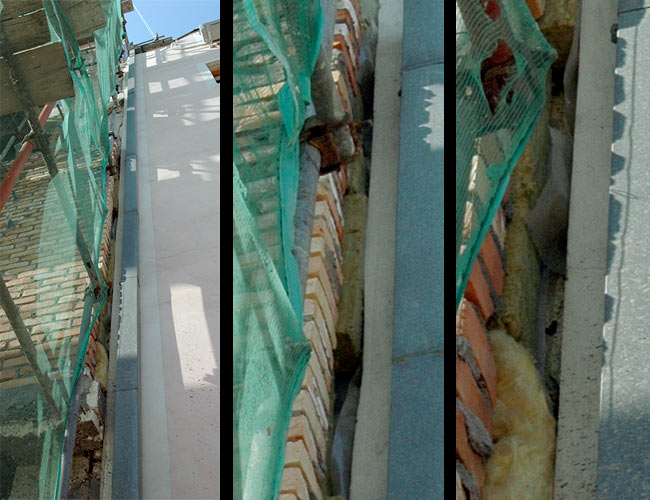 Details of the thermal insulation on the connection of 2 buildings touching each other: messy job (Photos Lionel Mestre).
Note that the messy stuff stuck in between is the only thermal insulation the wall of the new building has. The U-value of that section will certainly not be as good as the other sides. Those examples are taken in excellent locations where price per square meter is way above 1500€.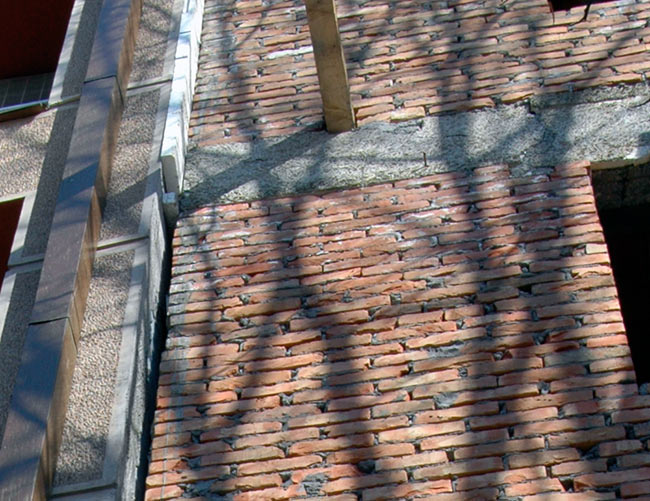 For those 2 buildings it seems builders managed a decent job but the thermal insulation just inexplicably stops on the lower apartment (Photo Lionel Mestre).
There must be better ways of doing that. One that comes to our mind is obviously the use of thermo-block such as POROTHERM. The block by itself being the insulation, there would be no need to add an additional layer. Just to leave a tiny air space. That would elegantly and safely solve the problem.
No thermal insulation
Some people actually found a similar way of solving the problem although this one is not recommendable: build with regular blocks, no thermal insulation and no facade. That is certainly the cheapest solution.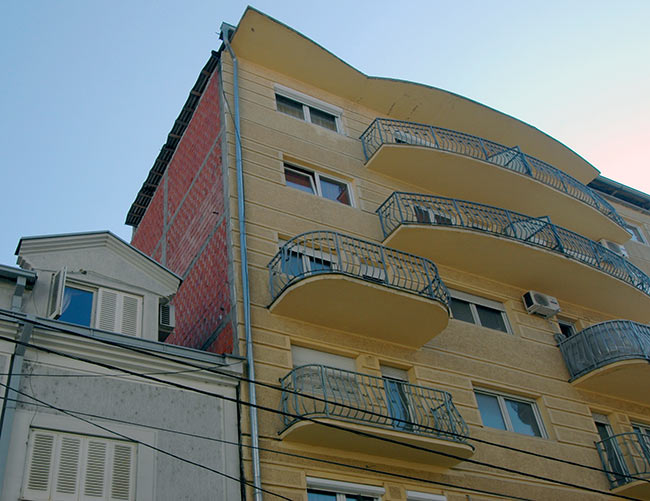 May be the solution to the messy polystyrene: let's remove the thermal insulation altogether... It is not clear if there is any thermal insulation on the front facade, it seems not either (Photo Lionel Mestre).
Conclusion
Is that the best we can do in the 21st century? Is that all 2000 euros/m² can buy? It is really depressing to see the poor construction quality of the buildings being erected all over Belgrade. This will leave a costly legacy that will not be solved easily. Cost of heating and cooling those buildings, cost of maintaining, fixing and improving them, and probably one day, cost of redoing them completely. And there is a human cost for those who buy and suffer discomfort and disillusion.
Yet, it would be enough to put more care and more thoughts into conception and choice of materials, to put a bit more money into realization, to make much better buildings.