SEEBBE 2008/1: COPA, Schöck, Schiedel and Knauf Insulation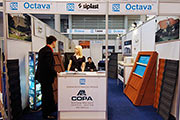 We had plenty of things and people to see at this 34th Belgrade International Building Trade Fair. All of our partners were there. We also looked for novelty. In this first report, we look at the stands of COPA (roof solution and where the scale model of our project was displayed), Schöck (thermal break for balcony), Schiedel (chimney) and Knauf Insulation (rock wool).
COPA, Octava roof solution
Like last year, COPA was presenting Icopal Octava roof solutions. COPA came with their complete team and a new, very nice, stand design.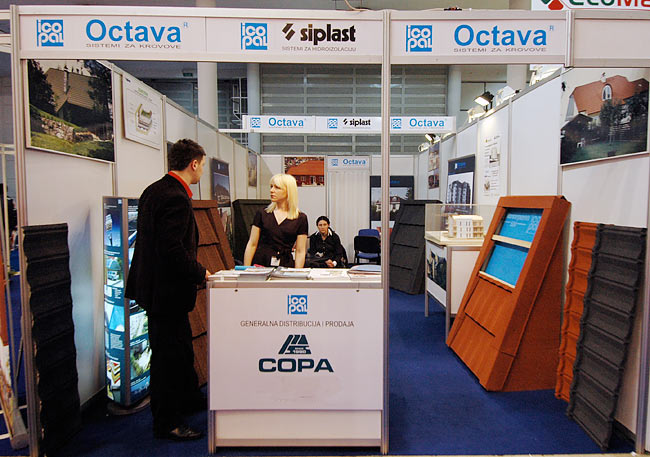 COPA stand (Icopal-Octava-Siplast)
Icopal Octava is a complete roof solution based on lightweight stone coated steel tiles. COPA also provides Monarperm 500, a roof underlay membrane, and a complete gutter rainwater evacuation system for the roof. We would have liked to meet a Siplast representative during the fair but he could not make it this time in Belgrade.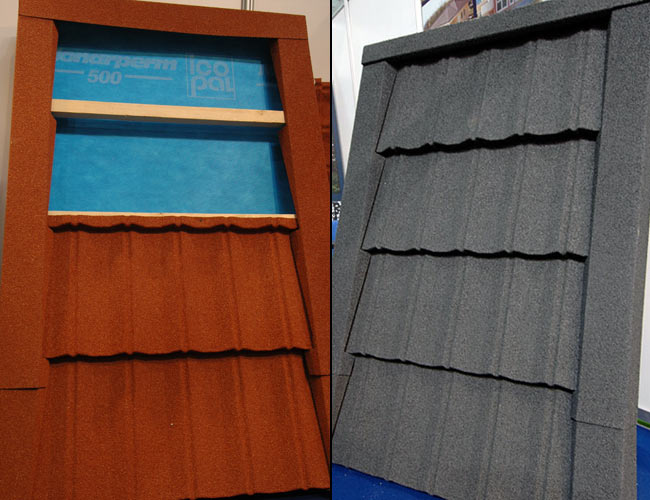 Octava roof red with Monarperm 500 underlay membrane and grey (that we will use)
COPA also kindly displayed Amadeo scale model on their stand.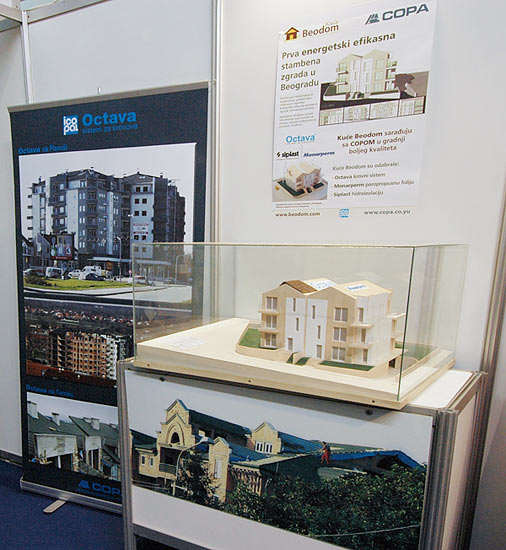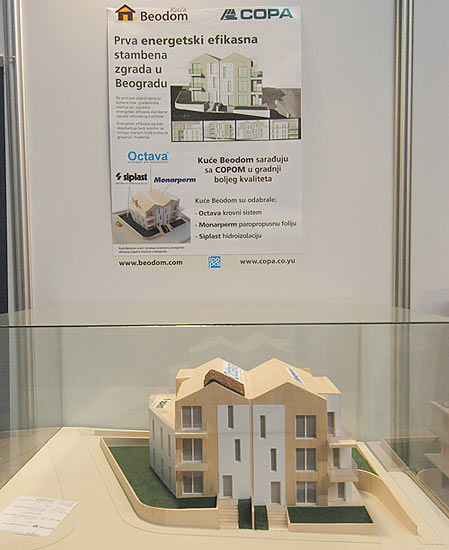 Amadeo scale model in COPA stand
Schöck, thermal break for load-bearing connections
Schöck produces thermal breaks and noise reduction systems for load-bearing connections in buildings. Their stand was located in the gallery of the Hall 3. We met there with Peter Jaksch, the area manager, who came from Austria for the fair, and the managing director of the Serbian branch.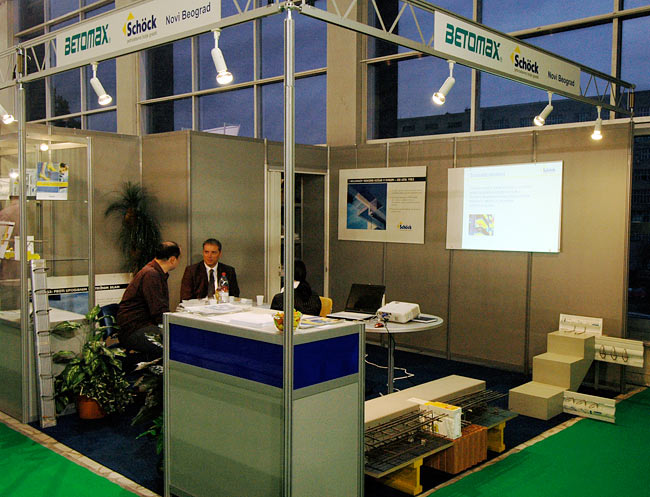 Schöck stand
Schöck provides genuine added value in construction by resolving thermal bridges that are otherwise hard or impossible to correct. Their potential for growth in Serbia is tremendous and they are just starting to pickup steam. The hard part in Serbia is to convince investors that spending extra money for much better building and living quality is worthwhile.
Our project Amadeo will be a pilot for Schöck in Belgrade and will receive special attention from them to make sure Schöck Isokorb is installed rightly.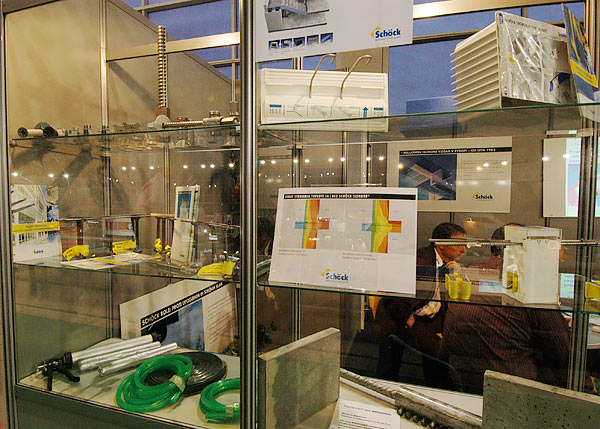 Schoeck products line
We will use Schöck Isokorb, the thermal break for balcony concrete slab, exactly the way it was demontrated on Schöck stand during the fair. The balcony slab extends outside, past the end of the POROTHERM block and Schöck Isokorb is positioned to cut the heat flow from inside to outside.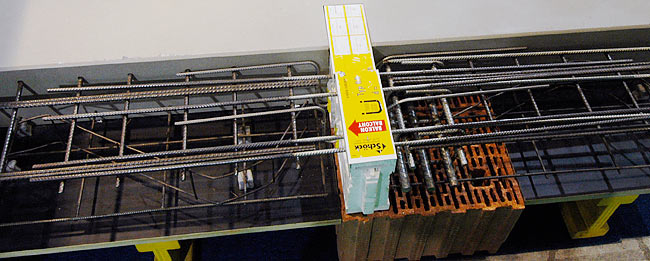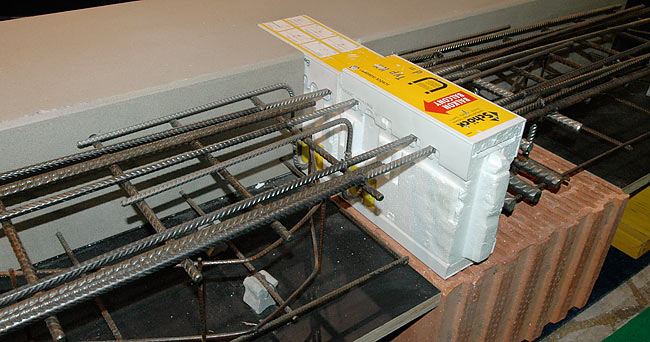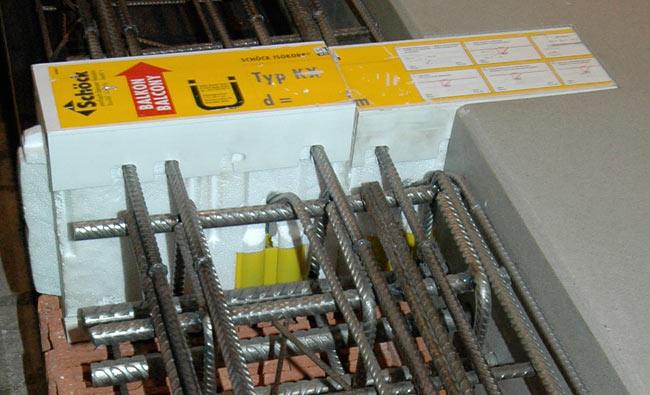 Schöck Isokorb for balcony. The balcony is on the left, past the edge of the clay block and the interior is on the right. Schöck Isokorb is positioned at the edge of the block to cut the heat flow that would otherwise go through the concrete slab and the metal reinforcement.
Schiedel, chimney systems
Schiedel had a large stand with a nice design where they presented most of their chimney solutions. Their ventilation channel system, that we use in Amadeo, is such a small part of their business that it was not even shown on their stand.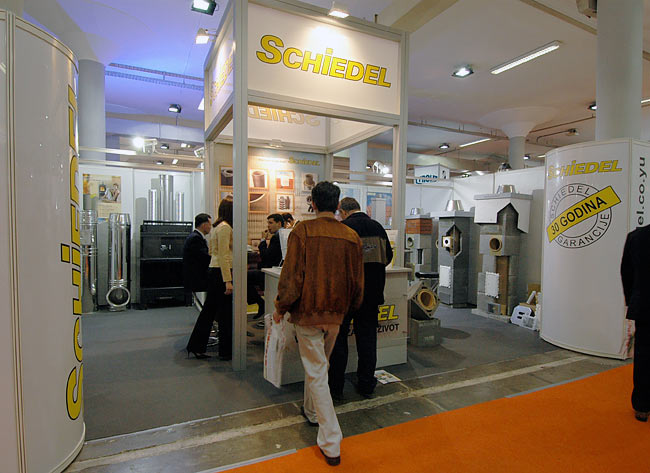 Schiedel stand
The ceramic chimney systems were shown on one side while the stainless steel systems were on the other side.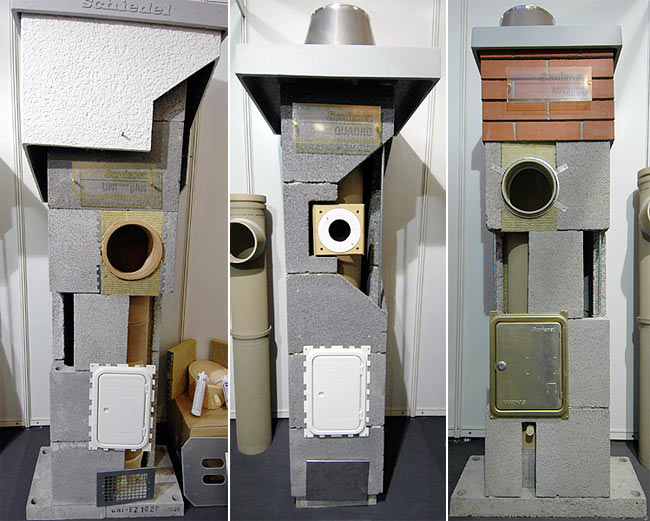 Schiedel ceramic chimney solutions
The visible roof part of the chimney was also presented with the final system.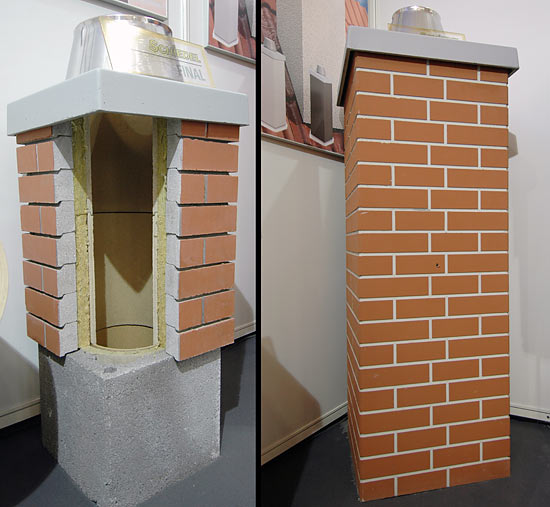 Schiedel final chimney solutions
Knauf Insulation
Knauf Insulation stand was all in warm orange colors to present their thermal insulation solutions based on rock wool.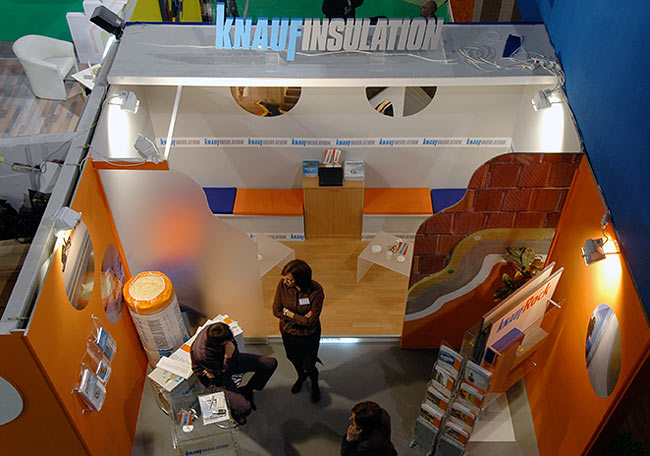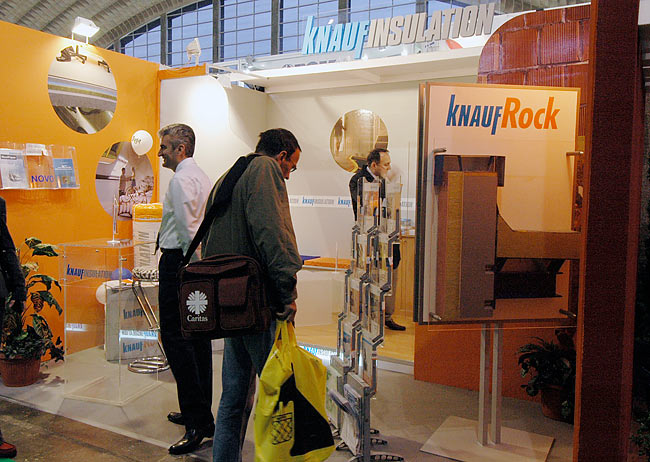 Knauf Insulation stand
Knauf Insulation told us that they prepared a new application to perform all thermal calculation in a building, based on Serbian standards. It will be available shortly after the fair.
We will continue reporting the building fair in subsequent articles.