Amadeo: Overview
Amadeo: 1st residential low-energy building in Serbia
Amadeo combined energy efficiency, with outstanding thermal characteristics, and renewable energy, with the use of geothermal and solar energy. Amadeo had 11 apartments for a total surface of 608m² net and an additional 428m² net of underground parking. Design of the building was done by Italian studio Studiodosi from Ravenna. Construction went from May 2008 to June 2009.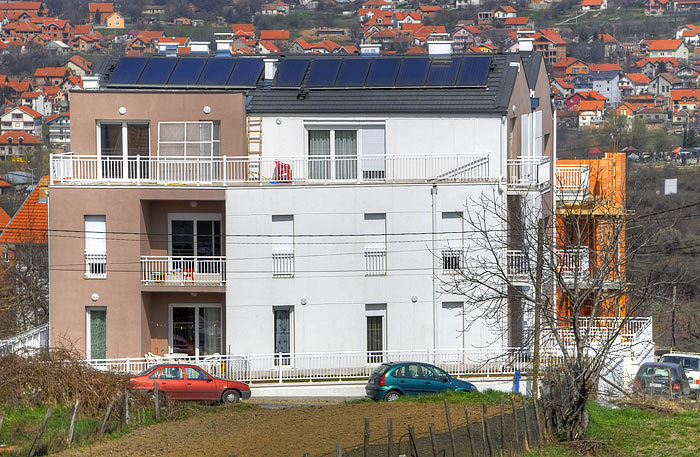 Amadeo south side.
Energy efficiency
Amadeo was built with large clay blocks Wienerberger POROTHERM. It has outstanding thermal insulation on the roof and floors. It has PVC windows with low-e glazing. Ventilation is provided by a passive stack ventilation based on Schiedel ventilation element and Duco air inlets.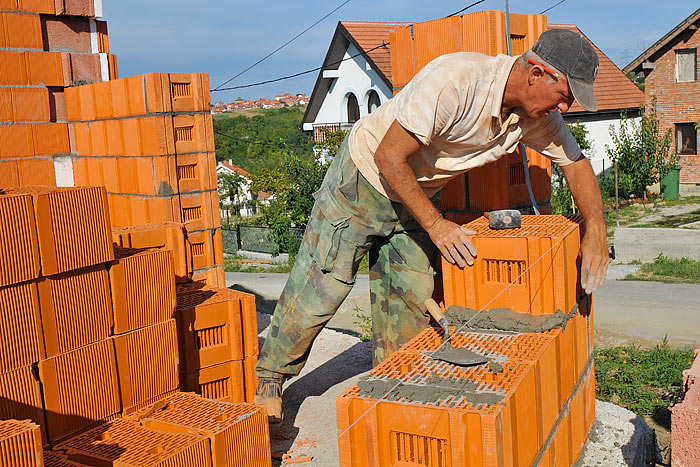 Building one external wall of Amadeo with POROTHERM 38.
Renewable energy
Amadeo has a geothermal system, ground-water, powering underfloor heating and cooling. The energy source is based on 5 vertical Rehau Raugeo geothermal probes going 100 meters underground. Inside of the building, energy production is done by a Vaillant geothermal heat pump, GeoTHERM VWS 300/2, that delivers 30kW. The pump is connected to a storage buffer with a capacity of 750 liters.
Amadeo also has a thermal solar system powering the production of sanitary hot water. The solar system is based on Rehau SOLECT system. It comprises 12 thermal solar collectors and 2 water cylinders of 500 liters each.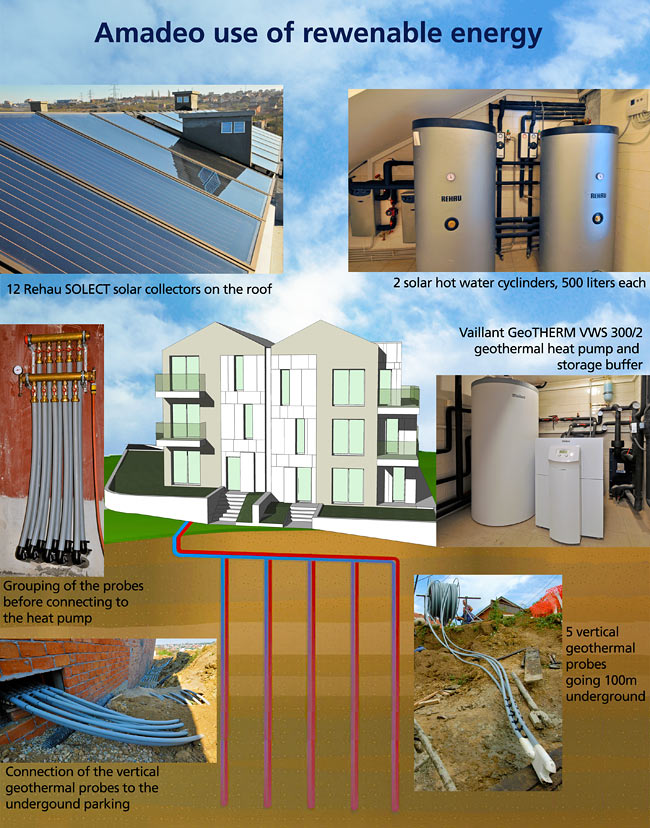 Use of renewable energy in Amadeo.
Progression of the construction
See pictures of the construction from the preparation of the land to the final results with the link below.