Complete Amadeo project is now online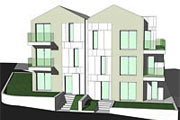 After 2 months of excellent collaboration with "studiodosi" we are pleased to announce the availability of the complete Amadeo project on the website. What a difference it makes to work with truly passionated professionals such as "studiodosi"! We are now in the process of preparing the submission of the projects to the municipal office.
Will we happily continue our collaboration with "studiodosi" for the next phase of Amadeo next year.