Amadeo will be the first low-energy residential building in Belgrade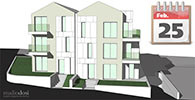 With Amadeo, Kuće Beodom is not just making yet another building. Amadeo is going to be the first low-energy building in Belgrade. It is the first time in Belgrade, that a company put together a coherent set of building solutions to create that level of quality. At the moment, we are waiting the final validation of the project by the municipal office...
Amadeo represents a genuine effort for better quality. Building quality is all about:
providing optimal comfort in all seasons, with much less money spent on heating and cooling (low-energy)
providing durable constructions that do not deteriorate quickly (wall system with POROTHERM, roof with Decra-Octava)
providing healthy interior (ventilation, no thermal bridges, POROTHERM)
providing enjoyable interior (windows, sound insulation)
Building quality involves making many informed decisions to select the best solutions and put them together. This has never been done in Belgrade before and we strongly believe that it is the future of construction. We are working with several large companies such as Wienerberger, Icopal, Schöck or Knauf Insulation who innovate to make this possible.
Amadeo project status report
Regarding progress, we are in the last phase of validation with the municipal office. We first submitted Amadeo at the end of 2007. It was returned to us at the end of january with a list of small things we had to correct in order to pass. This is very common to have more than one round trip with the municipal office. So we corrected everything and we resubmitted the corrected project at the begining of this month.
So we are now expecting anytime to finish this phase with the municipal office. We have been told it will be this week. So stay tuned for more news. We are in line to start construction in Spring.