Heating and cooling
Because our constructions are energy efficient, the demand on heating and cooling is greatly reduced. To further save on energy, we use renewable energy to provide heating and cooling.
Coupled with the geothermal heat pump, we use Rehau RAUTHERM low-temperature underfloor heating and cooling system. The heat pump is reversed in summer to provide cooling. Additionally, each apartment is equipped with a Schiedel chimney allowing to connect a complementary heating system such as a stove or a cooker working with wood or coal.
Rehau RAUTHERM low-temperature underfloor heating
The best heating distribution system for comfort and energy saving is certainly the low-temperature underfloor heating. Coupled with a geothermal heat pump, it is an ideal combination maximazing efficiency and saving. 75% of the energy used by the system comes from the ground for free.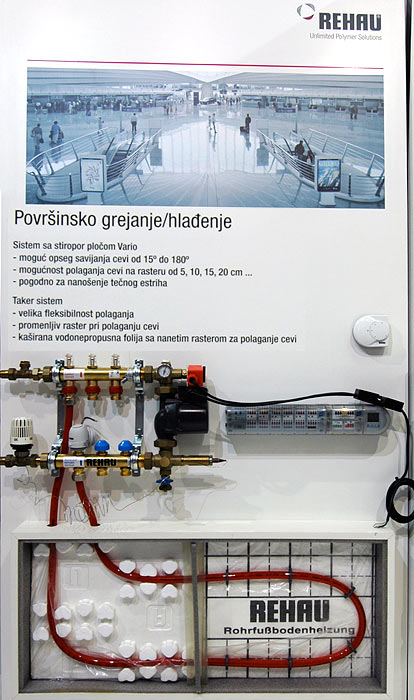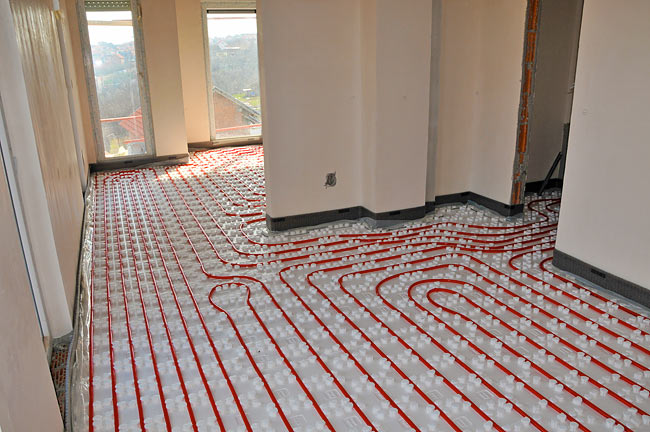 Rehau RAUTHERM underfloor heating and cooling system (photo Beodom).
Cooling system (underfloor/fan-coil)
One of the big advantage of the heat pump, besides cost saving on heating, is the possibility to reverse it in summer to provide cooling. The same underfloor pipes used for heating can also be used in summer for cooling. Floor cooling is carefully controlled to prevent condensation. It works best on tiles and is not compatible with wood or laminate flooring.
Additionally to floor cooling, we use ducted fan coil cooling. The cool water coming from the heat pump is circulated in a fan coil which ventilates cool air in the room. Cooling with ducted fan coils can be used as an exclusive solution (instead of floor cooling) or as a complementary solution to the floor cooling. In any case, it safely removes humidity from the air by condensing it inside the coil.
Ceramic chimney system from Schiedel
The chimney is made of Schiedel chimney system, the leader in Europe for ceramic chimneys.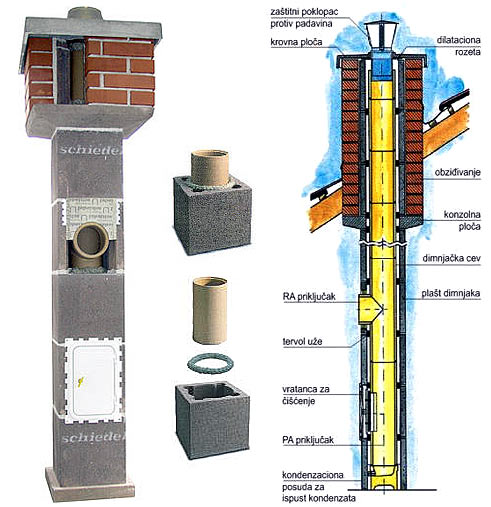 Schiedel SR System (source Schiedel).
When the chimney is just for complementary heating, we use Schiedel SR system.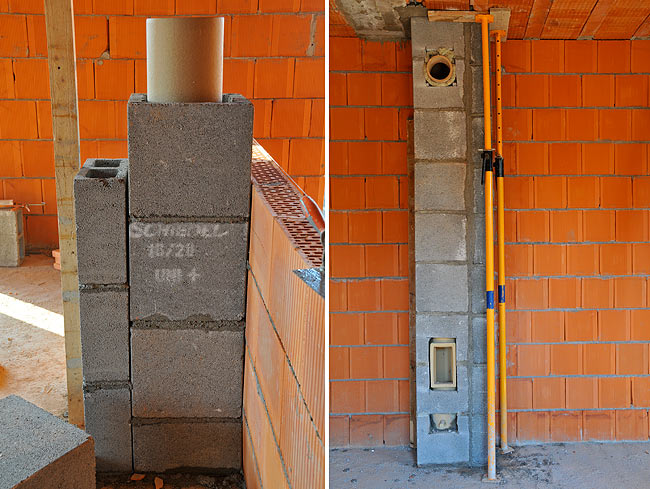 Schiedel SR System being installed in Amadeo, together with Schiedel ventilation elements (photos Beodom).