Low-energy buildings, the trend of the future in construction
This article, written by Lionel Mestre, was published in the BelRE 2008 catalog.
A turning point
While our civilization has enjoyed almost unlimited supply of cheap energy for a long time, that time is coming to an end. Oil, gas, coal are bond to become more expensive because we have already extracted and used the best of it. On top of that, because of our ruthless use of natural ressources and the pollution we have been pouring out, we are heading for a natural disaster. We are at a turning point where we cannot anymore carry on the same solutions that have been working in the past. That is true in many sectors, from energy production, agriculture, transportation to housing.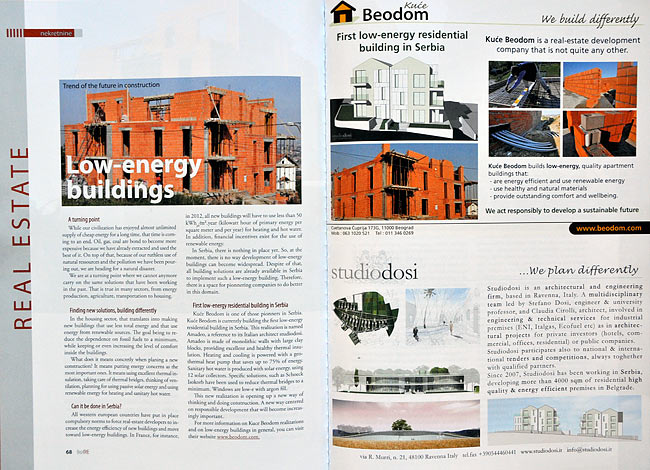 Article in BelRE 2008 catalog
Finding new solutions, building differently
In the housing sector, that translates into making new buildings that use less total energy and that use energy from renewable sources. The goal being to reduce the dependence on fossil fuels to a minimum, while keeping or even increasing the level of comfort inside the buildings. What does it means concretly when planing a new construction? It means putting energy concerns as the most important ones. It means using excellent thermal insulation, taking care of thermal bridges, thinking of ventilation, planning for using passive solar energy and using renewable energy for heating and sanitary hot water.
Can it be done in Serbia?
All western european countries have put in place compulsory norms to force real-estate developers to increase the energy efficiency of new buildings and move toward low-energy buildings. In France, for instance, in 2012, all new buildings will have to use less than 50 kWhpe⁄m².year (kilowatt hour of primary energy per square meter and per year) for heating and hot water. In addition, financial incentives exist for the use of renewable energy.
In Serbia, there is nothing in place yet. So, at the moment, there is no way development of low-energy buildings can become widespread. Despite of that, all building solutions are already available in Serbia to implement such a low-energy building. Therefore, there is a space for pionnering companies to do better in this domain.
First low-energy residential building in Serbia
Kuće Beodom is one of those pionners in Serbia. Kuće Beodom is currently building the first low-energy residential building in Serbia. This realization is named Amadeo, a reference to its Italian architect studiodosi. Amadeo is made of monolithic walls with large clay blocks, providing excellent and healthy thermal insulation. Heating and cooling is powered with a geothermal heat pump that saves up to 75% of energy. Sanitary hot water is produced with solar energy, using 12 solar collectors. Specific solutions, such as Schoeck Isokorb have been used to reduce thermal bridges to a minimum. Windows are low-e with argon fill.
This new realization is opening up a new way of thinking and doing construction. A new way centered on responsible development that will become increasingly important.
What's next?